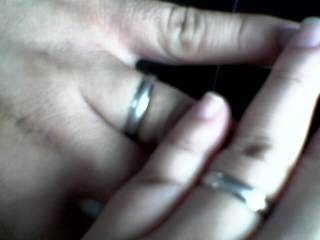 Wedding Rings

Unbelievable, i'm now Mrs Chua.
Mr Chua & myself solemnized our marriage last Tuesday, on 21st September 2004. He was so nervous that he muttered "I DO" at least 3 times while the solemnizer was still reciting the marriage vows, hah!
Anyway, it's like a relief to the both of us. It was something we have been talking about since late last year. But i have always thought i wasn't ready for marriage. I'm too wilful & not caring enough, he's always the one giving in to me & all.
But I felt like i'm beginning to listen to him more & I can really put myself in others' position to understand the situation better. I have matured & have become more sensible. I just hope that our marriage will last, I'm sure it will if we both put our hearts to it & manage it with our utmost effort.